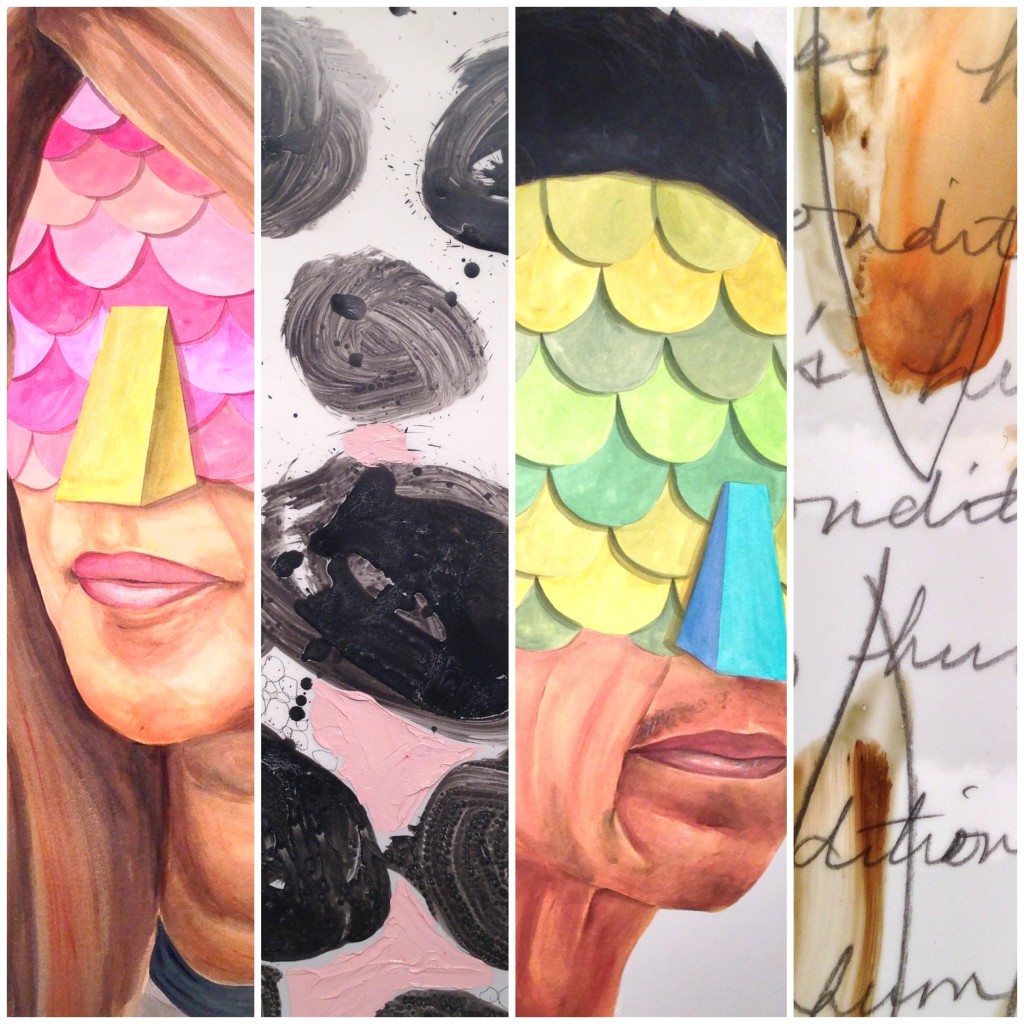 CARLOS DONJUAN:
Carlos Donjuan's current body of work relates to the idea of illegal aliens. As a kid, Donjuan recalls hearing the term frequently, but never fully understood its' meaning. He states, "I always wondered what everyone was talking about, imaging weird creatures in my head…I wanted to meet one and to know what they looked like." As Donjuan grew older, he discovered that some condemned him due to his background, a realization he describes as heartbreaking. He comments, "I wasn't much different from everyone else except for the fact that I was born on the other side of the border."
As an artist, Carlos now utilizes the negativity he encountered to fuel his work. He revisits his childhood curiosity: what do illegal aliens look like? He interprets these childhood memories in his paintings, creating masked figures, hybrid animal people, pyramids and blob creatures—representations of immigrants who journey to a better life.
MARILYN JOLLY:
I feel a strong connection to the Japanese concept of Wabi Sabi, sometimes described as an appreciation of beauty that is imperfect, impermanent and incomplete and is often centered on the idea of transience. Fragility, directness, repetition, imperfection, process and time, observation of the natural world and of my thoughts are some of the influences on my work.
I am aware of patterns and repetitions in activity or design or process or seasons. Sometimes I have clarity of intention immediately upon first seeing a thing or working through an idea for a painting. At other times, objects and images are held in a suspended state in my studio until the right moment of clarity. Many of the objects I collect come with their own history/patina and suggest obvious references that become more complex when used in another context. I work both in painting and sculptural objects and see them in conjunction with each other in expressing my thinking.
My aim is to be able to transcribe my thoughts into abstract imagery that evokes my thinking while leaving room for interpretation. I want to be able to find the heart of the thing and describe it in simple, yet evocative ways. I want to find myself in the give and take of building and editing an object that responds to my ritual of creative play.
"Our artistic relationship has developed over a number of years as well as our sharing of creative ideas and collaboration. We have exhibited our work together in the past and continue our ongoing conversation about art. Carlos was my student at the University of Texas at Arlington while he completed his BFA. We share a love of form and a strong design sense that comes through our work, and our color palette is often in sync even though our backgrounds are very different and our work reflects our personal histories." – Marilyn Jolly